Recipes
Bluefish Salad
4 fresh bluefish filets
3 Lemons
Fish Seasoning (such as Prudhomme's Seafood Magic)
Salt
Fresh cracked pepper
1 cup mayonnaise
1 T dijon mustard
¼ cup sweet pickle relish
First poach the filets. In a shallow pan put about 1 ½ inches of water. Add to the water the zest and juice of 2 lemons, 1 t fish seasoning, ¼ T cracked black pepper. ½ T salt. Bring water to a slow boil. Reduce heat and add as many of the filets as will fit in a single layer. Poach for 5 minutes or until the flesh is just opaque keeping the water just below a boil. Do not overcook.

Allow filets to cool. If desired, you can use a spoon and scrape the dark blood line out of the filets. Crumble fish in large bowl. Zest 1 lemon and squeeze juice over fish and toss. In separate bowl mix mayonnaise, mustard, relish, ½ T fish seasoning ¼ T cracked black pepper, ½ T salt. Mix well. Add to fish and gently combine.
– Ellen Latrell
Bluefish Dijonnaise
1/4 cup mayonnaise
3 tablespoons Dijon mustard
1/2 teaspoon dried thyme
4 6-ounce bluefish fillets, skin and bones removed
Kosher salt and freshly ground black pepper
Place a large cast-iron griddle or ovenproof skillet under the broiler and preheat until very hot, at least 10 minutes. Meanwhile, combine the mayonnaise, mustard and thyme in a small bowl. Generously season the fillets with salt and pepper. Paint one side of each fillet thickly with the mustard mixture. Place the fish in the skillet, painted side up, and broil until the coating is brown and bubbling, 3 to 4 minutes. Serves 4.
– Gregg and Nancy Cook
Poor Man's Lobster
Take a striper filet (or more than one) and cube the meat into cubes of 1" square m/l. Boil water in a pan of suitable size.When the water comes to a boil, put the striper chunks into the boiling water. Once the water comes back to a boil, allow three(3) minutes cooking time, and no more - watch the clock!

Gently drain into a strainer or a colander. Put the pan back onto low heat and melt butter(to suit). When the butter is melted put the striper chunks back in the pan and mix well with the butter. Now serve it on warmed plates (to avoid a quick cool down of the fish). Seasonings of your choice - parsley, pepper, etc. can be added, but not necessary. If you add seasoning, don't overpower the delicate flavor of the fish. Doesn't it taste like LOBSTER?
– Kevin Geenty
Cedar Planked Fish
Obtain cedar planks, 1/2" by 6" by 12" (Sold at grocery stores, Wal-Mart, Target, & hardware stores). Soak the planks in water for at least an hour before cooking. I stick my planks in the sink and then weigh them down with heavy object or set a pot full of water upon them.

Book a fishing day with Captain Dan Wood and come home with Bluefish, Striped Bass or Bonito fillets. Depending on your guests, expect two guests per fillet, so fish wisely. Oil up the fillets with olive oil, use liberal amounts. Add seasoning as desired (salt, pepper, lemon juice, lemon rounds, etc). Lay out fillets on soaked boards, with or without skins to preference works easily either way and place atop a hot grille. The fish will both steam and cook so watch the fillets carefully. Typical cook time is 8 to 12 minutes. Test with fork for thoroughness of cooking. Meat should come apart in wedges. To my liking, sushi is better than jerky so watch time and temperature closely, beer in hand is wise.

I serve by placing the whole planks atop dinner table. I tend to mix and match my fish and like the taste of Blue fish under any conditions but a nice cedar essence is imbibed into the fish meat easing the 'blue fish' issues many people have and enhancing all fish.

The planks, though burnt on one side, can be reused, typically three or four times, just wash with regular soap and water and rinse well and allow to fully dry, then soak them again when you next need them.

Deviled Fish Leftovers
I collect all remaining fish, remove any skins and stray bones and chunk it up into a small pieces. I then add mayonnaise, salt and Bay seasoning and mash all up with a fork until broken down into a chunky spread to concoct a form of 'Deviled Fish' that I then put between a toasted hamburger bun for lunch the next day. I am brave so this will still be 'good 'for about three days relative to my 'constitution.'

Recommend wheat beer or Riesling with both main entre and next day lunch.
– Mangia! Robb Wright
Blue and Bass Brine
The brine is just 1/2 cup of salt and 1/4 cup of sugar dissolved in 4 cups of water. Once dissolved, toss in the fish fillets for 20 minutes. Then cook your usual way. It's especially good on the grill and works wonders with the skin on for either Striped Bass or Bluefish (yes - I said Bluefish - believe it or not if you have Dan slit their throat latches when they are still alive and get the blood out). If you are into herbs and other aromatics, you can just cover the salt and sugar with water and heat it up to dissolve it and throw in the aromatics to leach out the flavors in the warm liquid for 5 or 10 minutes or so and then add some ice and cold water to cool things down before tossing in the fillets.
– Gregg Cook
Striper Cakes
1 lb striper fillet, or other white fish, cod, flounder, grouper, etc.
1 scallion
1 egg
2 tbs fresh dill
4 tbs butter
1/4 c breadcrumbs
1 tbs white wine
6 tbs mayonnaise
1 tbs wasabi powder
3 tbs butter
Place fillets, scallions, dill, egg, wine, breadcrumbs and 2 tbs mayonnaise in food processor. Process to even consistency. Form into patties and fry in butter until golden brown.

Add wasabi to 4 tbs mayonnaise and mix. Spread on patties and serve on buns.
– Greg Chasko
Striped Bass with Mango Salsa
Ingredients for the Rub:
2 teaspoons pure chile powder
1 teaspoon kosher salt
1/2 teaspoon granulated garlic
1/2 teaspoon dried oregano
1/2 teaspoon ground cumin
1/4 teaspoon freshly ground black pepper
2 striped bass steaks, cut 1 inch thick
Extra virgin olive oil
Ingredients for the Salsa:
4 medium mangos, 3-4 ounces each, chopped
1/2 cup finely chopped red onion
1/4 cup lightly packed fresh cilantro
1-2 jalapeños, stemmed, quartered, and seeded
2 medium garlic cloves, crushed
1 tablespoon extra virgin olive oil
1 tablespoon fresh lime juice
1/2 teaspoon pure chile powder
1/4 teaspoon ground cumin
Kosher salt
Freshly ground black pepper
Mix the rub ingredients in a small bowl. Lightly coat the fish with the oil and season evenly with the rub. Refrigerate until ready to grill.

In a large bowl mix all of the salsa ingredients. Pile salsa ingredients in a large sheet of aluminum foil and then fold in the edges to make a sealed packet. Place the sealed packet on the grill for 10 minutes. Let contents cool for 5-10 minutes, then place in a food processor and mix to make a chunky salsa. Season with salt and pepper to taste.

Clean and oil the cooking grate of the grill. Place the steaks directly over the coals, cover and let cook for 5 minutes. Carefully flip the steaks and continue to cook until fish is just opaque in the center, another 2-3 minutes. Remove the fish from the grill and let sit for 5 minutes. Top steaks with the salsa and enjoy.
– Doug Lajoie
Smoked Bluefish Filets
These directions are for use with a gas grill.
Fresh, medium-size, skin-on bluefish filets which have been bled upon catching, and kept on ice (This is really important!)
One half-cup non-iodized salt (Kosher salt works very well)
One half-cup sugar
1 Tablespoon freshly ground black pepper
1 Clove garlic, pressed
One-half onion, rough chopped
1 Quart cool water
Hickory wood chips
Prepare Brine
Add the salt and sugar to the water and stir until all crystals are dissolved. Add pepper, garlic and onion.

Brining
Place filets in brine, cover tightly and refrigerate up to 12 hours. Discard brining solution and thoroughly wash filets in cold water. Dry filets with paper towels. Allow filets to air dry for one hour, or until surface of meat is slightly sticky.

Smoking
Soak hickory chips in water for 2 hours, drain and wrap damp chips in aluminum foil. Pierce foil with knife to allow smoke to escape.

Place wood chip package directly on one heating element of grill, and place the filets, skin side down, on the opposite side of the grill away from direct heat. Close grill cover. Smoke 3/4-inch thick filets for one hour and fifteen minutes at 275 degrees F, or two hours at 200 degrees F. Add wood chips as necessary until smoking is complete. The meat should be golden brown and flake easily. Cool to room temperature, discard skin and enjoy!
– Mark Hintsa
Bluefish Grilled in Foil
2 large bluefish fillets (about 1 lb ea)
1 medium onion
1 green pepper seeded and thinly sliced
1 large firm tomato, thinly sliced
1 cup bottled Italian salad dressing
lemon wedges for garnish
large pieces of aluminum foil
Prepare a barbecue fire. Coals should be coved with white ash. Rinse and dry the bluefish. Tear off two pieces of aluminum foil large enough to wrap around fish and seal tightly. On one sheet of foil, place one of the fillets skin side down. Layer sliced onion, green pepper and tomato on top. Top with a second fillet, skin - side up. Raise the sides of the foil and pour the salad dressing over the fish. Seal the foil by crimping the edges together and wrap again with second sheet of foil. Place the packet on the grill and cook for 20 min, turning once. Poke holes in the foil tio let liquid escape and grill for another 5 min or so per side or until fish tests done. Remove from the grill, open foil and serve with lemon wedges. 4-6 servings.
– Tom Turek
Smoked Bluefish Dip
1/2 lb Smoked bluefish (Cooled)
1/4 C Mayo
1/4 C Sour Cream
1 med shallot, minced
2 Tbs Chopped fresh Dill
2 Tbs Capers, Drained and chopped
2 Tbs fresh Lime Juice (Jim used Lemon juice)
Paprika for serving
Flake the smoked bluefish into a medium bowl. Stir in mayo, sour cream, shallot, dill, capers, and Lime (lemon) juice. Refrigerate until chilled and firm. Stir well. Sprinkle with paprika ad serve. (Can be refrigerated for three days.)
– Jim Hanratty
The Boat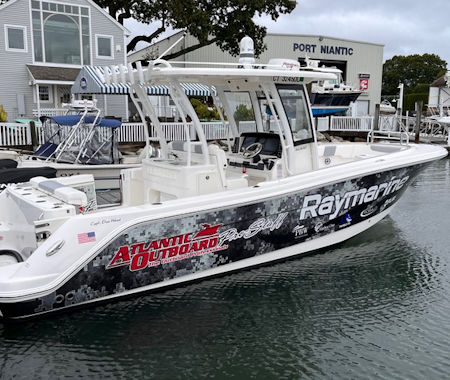 Robalo's R302 Center Console combines fish-ability and bluewater performance in a boat that never backs down.
more
Captain Dan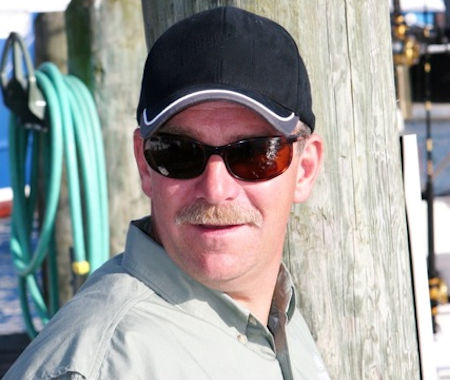 Capt. Wood has been guiding for over 40 years and has earned the respect of his fellow captains in the area.
more
Photo Gallery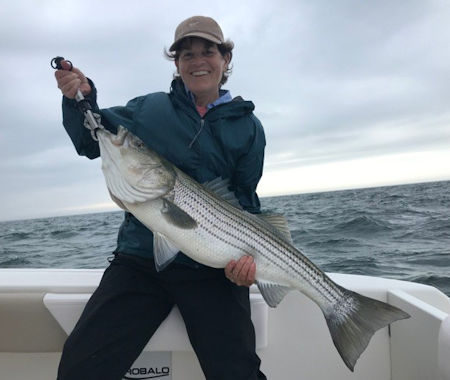 View a photo gallery of images we have collected from our past guided fishing trips throughout Southeastern CT.
view gallery